About Us
Orthotic & Prosthetic Lab has been providing quality, compassionate care to residents of St. Louis and Southern Illinois since 1983. A recognized leader in the field, our experts work as a team to create the most functional solution to your orthotic, prosthetic and pedorthic needs using the latest technology available. Our patient-centered, team approach means we work closely with your doctor, nurse, therapist and family to create custom made solutions that work for you.
Our practitioners make up the largest and most experienced O & P practice in the area. We have both adult and pediatric specialists. Our board-certified practitioners regularly attend and conduct continuing education programs and clinics allowing us to bring our patients the very latest in technology and developments in the field. Our St. Louis based Central Fabrication Facility allows us to fabricate your device with speed, quality, and convenience.
Emergency 24/7 Service
Our staff is available 24 hours a day, 7 days a week for emergencies that cannot wait until the next business day. At O&P Lab, we are dedicated to providing the very best patient experience.
With seven patient care centers to choose from, there is one near you. Call for an appointment today.
Prosthetic Services
There are approximately 2 million people living with limb loss in the United States. Most limb loss occurs in those with compromised vascular systems, frequently because of complications from diabetes. Other causes of limb loss include cancer, traumatic injuries, or congenital disorders.
At Orthotic & Prosthetic Lab, we understand how devastating it is to lose a limb, and we are proud to be able to help our patients regain their function and self-confidence. The loss of a limb or the birth of a child with a limb difference doesn't have to be a limitation; it could be the beginning of a powerful new life. We at O&P Lab want to become part of your journey in a life without limitations. By working as a team and being a partner in the process, we can achieve your goals with a good fitting prosthesis that you need and deserve.
Within our experienced team of prosthetist's, we can design, fit, and fabricate a custom prostheses that is right for you.
Orthotic Services
After receiving a prescription from your physician for an orthopedic brace, you will most likely be referred to an orthotist, orthotic company or clinic team. An Orthotist is a trained healthcare professional who specializes in making a wide range of custom fit braces. It is the orthotists job to cast, measure, build, fit, maintain, and educate you on the proper wear and care of your brace. Often your physician will make the referral to a clinic team. Orthotic clinical teams for children are especially important because of changes in growth and development. This team is made up of the physician, nurse, orthotist and therapist all working together to achieve the best possible outcome. Remember the most important member and contributor to the team is YOU.
The goal of orthotic bracing is different for each patient. The goals could involve increasing your mobility, decrease a hospital stay, supporting a week or deformed limb, reducing fatigue, picking up you toe as you walk, stopping the progression of a spinal curve, maintain correction of a foot, protecting a new surgery or fixing a flat spot on a child's head. Whatever the problem area is, our orthotists are experts in wide variety bracing solutions.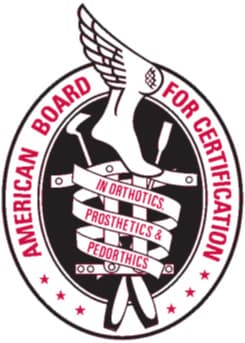 At Orthotic & Prosthetic Lab, our facilities are ABC accredited and our orthotic staff is made up of certified professionals. We have both adult and pediatric specialist, so you can be sure that the right orthotist is a member of your team.
ABC Accredited Facility
Did you know that in most states there are no requirements for education, certification or licensure for orthotists, prosthetists or pedorthists? Take a proactive approach in determining who you will be working with – being informed will only help you gain a positive outcome. It's important that you choose a highly qualified, rigorously trained individual, someone who has the appropriate education and training and is ABC certified in their discipline. Choosing an ABC accredited facility is also just as important. ABC's exacting standards ensure that ABC accredited facilities have earned the mark of exceptional quality and superior patient care. You deserve nothing less.
The Orthotic & Prosthetic Lab is an ABC Certified Facility staffed with ABC certified professional who can help you reach your goals. Certification and accreditation provides you with the assurance that the right practitioner is a member of your team.