Types of Lower Extremity Orthotics
Foot Orthotics
Foot Orthoses
UCBL Orthoses
---
Ankle Foot Orthoses (AFO)
Ankle Supports
Prefabricated AFO's
Total Carbon Fiber AFO's
Solid Ankle AFO's
Posterior Leaf Spring AFO's
Metal Double Upright AFO's
Ground Reaction AFO's
Spiral Carbon Fiber AFO's
CAM Walker
Pressure Relief AFO
Tibial Fracture Brace
Tibial Torsion Orthosis
Dynamic ROM AFO
Plantar Fasciitis Splint
Charcot Restraint Walker
Arizona AFO
---
Knee Ankle Foot Orthoses
Knee Patella Supports
Knee Immobilizers
ROM Knee Braces
Single Upright KAFO's
Double Upright KAFO's
Femoral Fracture Braces
Femoral Fracture Braces
ACL / PCL Knee Braces
OA Knee Braces
Swedish KO
Dynamic ROM KAFO / KO's
---
Hip Knee Ankle Foot
HKAFO Femoral Fx Brace
Custom HKAFO
Reciprocating Gait Orthoses
Standing Frame
A-Frame
Parapodium
---
Hip Orthoses
Adjustable Hip Abduction
Pavlik Harness
Rhino or Cruiser Hip Braces
Static Hip Abduction Braces
Scottish Rite
SWASH Orthosis
Dynamic Hip Abduction
---
CUSTOM MADE AFO'S
Orthotic & Prosthetic Lab, Inc.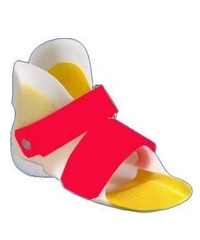 SUPRA MALLEOLAR ORTHOSIS (SMO)
Commonly prescribed for young children who present with benign hypotonia and excessive pronation, or flexible pes planus.
Assists in controlling medial and lateral ankle instability
Used to properly align the foot in the optimal position for a more natural movement of the foot and ankle during gait.
Improves balance and coordination while allowing for range of motion in the sagittal plane, so the child can stand, walk, run and jump.
---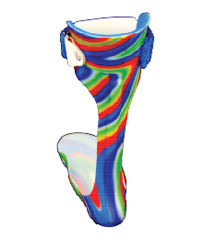 DYNAMIC POSTERIOR LEAF SPRING AFO
Commonly prescribed for conditions like drop foot, CVA, CMT, MS, Peroneal palsy, and lower extremity weakness.
Aids in dorsiflexion during swing phase of gait for increased toe clearance and safety.
Controls platarflexion at heel strike and maintains dorsiflexion during swing phase.
Flexibility and resistance to plantar flexion can be controlled by adjusting the trim lines at the ankle and length of the foot plate.
---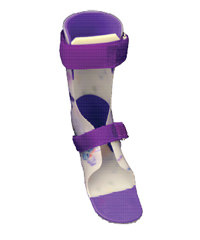 SOLID ANKLE AFO
Intended to provide maximum stability and control of the ankle and is often used in the absence of active range of motion.
Used when there is a lack of medial/lateral control or stability at the ankle.
Can also influence the position of the knee when moderate knee instability is a concern.
Prevents foot drop by blocking plantarflexion.
Assist push off by not collapsing into dorsiflexion.
Note: May be excessive if orthotic objective does not require blocking plantarflexion, dorsiflexion and inversion/eversion.
---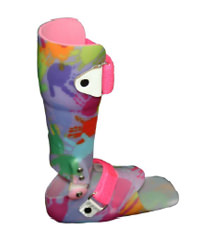 FREE MOTION ARTICULATING AFO
Commonly prescribed for posterior tibial tendon dysfunction and frontal plane instabilities of the subtalar and/or talor joint.
Allows full plantarflexion and dorsiflextion.
Maintains medial/lateral stability
Not recommended for patients with weak quadriceps or knee instabilities.
---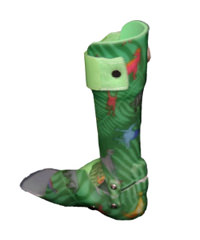 PLANTARFLEXION STOP AFO
Commonly prescribed for patients with weak dorsiflexors /drop foot. Can also be used to treat tight plantarflexors, peroneal nerve paralysis and knee hyperextension.
Prevents unwanted plantarflexion while permitting free dorsiflexion.
Provides additional medial/lateral stability, talar and subtalar joint stabilization.
Not recommended for patients with weak quadriceps or knee flexion contractures.
---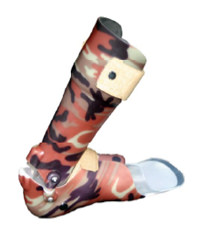 DORSIFLEXION ASSIST AFO
Commonly prescribed for neuromuscular conditions associated with foot drop and weak dorsiflexors.
Provides a dynamic dorsiflexion assist with passive plantar flexion resistance.
Aids in dorsiflexion during swing phase of gait for increased toe clearance and safety.
Supports ligament instabilities and provides medial lateral stabilization
Allows smooth plantar flexion from initial heel contact to foot flat insuring knee stability
---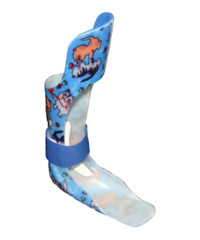 FLOOR REACTION AFO
Ideal for patients whose crouched position is due to weakness and lack of voluntary plantarflexion
Uses floor reaction force through the toe aspect of the foot plate to prevent tibial progression and subsequent knee collapse.
Blocks dorsifexion at the ankle.
---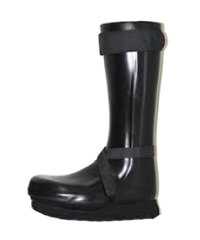 CROW AFO (CHARCOT RESTRAINT ORTHOTIC WALKER)
Commonly prescribed for the treatment of Charcot Ankle in combination with diabetic Plantar Neuropathy.
Provides immobilization of the foot and ankle and is an excellent alternative to total contact casting.
Incorporates a custom multidensity inlay for total contact and/or pressure relief on areas of the foot.
The rocker bottom and custom molded insert enhance healing and eliminate shear forces on the planar surface of the foot.
---