News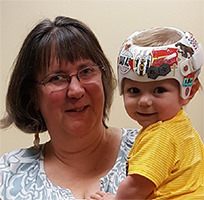 Barbara Rife Ziegler Retires!
Barbara Ziegler, CPO, FAAOP, a nationally recognized leader and expert on Cranial Remolding Helmets has retired after more than 32 years in the field of Orthotics & Prosthetics.
Barbara joined Orthotic & Prosthetic Lab in August of 2006 and has been a strong leader of our craniofacial team. Among her many accolades is the design and FDA approval of the St. Louis Bi-Valved Cranial Remolding Helmet. Orthomerica is now producing this helmet and calling it the "St. Louis Band Cranial Orthosis".
---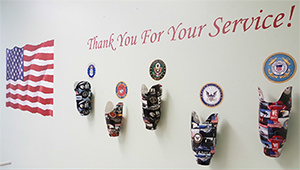 O & P LAB Salutes Our Veterans
Orthotic & Prosthetic Lab, Inc. of St. Louis, Missouri is supporting our active service personnel and veterans by offering fabric patterns for each branch of service in our United States Military. These patterns are available to veterans and active military personnel at no charge and are used to make their prosthetic sockets. Veterans and active military personnel can proudly display their branch of service on their prosthetic sockets. Orthotic & Prosthetic Lab offers in stock patterns for the Air Force, Marine Corps, Army, Navy and Coast Guard.
---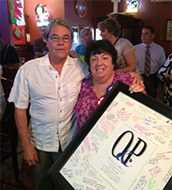 An O&P Legend Retires
After 31 years and 8 months, Vikki Donovan, the purchasing manager/orthotist for Orthotic & Prosthetic Lab is retiring. Vikki is known by every O&P vendor in the country as tough, no nonsense manager with a heart of gold. Her cost containment policies at O&P lab are as funny as they are effective. If for example you want a new china marker, you must bring her the worn out stub of your current marker and lay it on her desk in order to be issued a new one. If you want a new can of glue you must present her with the empty can or you get nothing. The technicians love to tease Vikki as she gives them what is known as the "glare" when they sign out materials from her warehouse. The late Charlie Taggart used to laugh when people asked him about cost containment and say her name is "Vikki"...
---
Study Affirms Benefit of Back Braces as Scoliosis Treatment
By Catherine Saint Louis
A new study provides the best evidence yet that wearing a back brace will slow the progression of the most common form of scoliosis in adolescents, helping them avoid painful spine surgery.
---