Types of Spinal Orthoses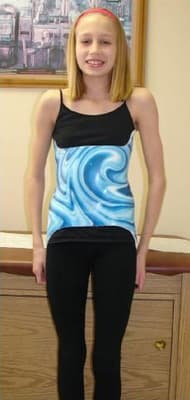 LS Corset
Chair back LSO
Custom Molded LSO
Hyperextension TLSO
TLSO Corset
Custom Molded TLSO
Spine/Scoliosis
Scoliosis TLSO
Milwaukee CTLSO
Bracing Treatment of Scoliosis
Orthotic & Prosthetic Lab, Inc.
Scoliosis is a condition that affects 1 in every 200 children in the United States. There is no known cause of the most common form of Scoliosis, called idiopathic scoliosis. Girls are four to six times more likely to develop idiopathic scoliosis than boys. Scoliosis can develop gradually and in most cases it isn't diagnosed until a child is between 10 and 14 years old, this is called adolescent idiopathic scoliosis. Scoliosis that occurs between 4 and 10 years of age is called Juvenile idiopathic scoliosis and scoliosis that occur as an infant called infantile idiopathic scoliosis.
Bracing Treatment
The best bracing results occur in children with slowly progressing curvatures that are detected and treated early. Patients with a curve that is below 25 degrees will usually be observed by their doctor on a regular basis to make sure the curve does not get worse unless the curve has five degrees of documented progression at which time the child will typically be braced at 20 degrees. When the curve measures between 25 to 40 degrees your doctor may recommend bracing treatment to keep the curve from getting worse or increasing in cobb angle. Research shows that scoliosis braces are effective in stopping the progression of spinal curves. The more the child wears the brace, the more effective the brace will be. The best bracing results occur when:

Bracing is started early, while the child has a lot of growth remaining (patients who are skeletally immature or Risser 0).
The Spinal curve is moderate, not severe
The brace is well fitted by your doctor and an orthotist based on your anatomy and analysis of your x-ray.
The child wears the brace for the prescribed amount of time which is typically 20-23 hours a day
There is family support for the child.
Your doctor will use X-ray's to measure the amount of bone covering the top of your hip to determine how mature your bones are and how much growth you have left. This is knows as your Risser Sign. Brace treatment is usually continued until the child's skeleton stops growing. This typically occurs:
About two years after girls begin to menstruate
When boys need to shave daily
Typically, Brace wear ends at Risser sign 4 for girls and Risser sign 5 for boys and sometimes a wrist radiograph will be done to determine skeletal age.
Children who wear braces can usually participate in most activities and have few restrictions. If necessary, kids can take off the brace to participate in sports or other physical activities including gym class. Always get your physician's approval before removing your brace to participate in sports or regular physical activities.
Scoliosis Bracing Options
Underarm or low profile brace – The majority of brace wear now offered to patients is an underarm thoracolumbosacral orthosis (TLSO). The underarm brace is a custom-molded or custom to measurements device made in such a way as to prevent curve progression through padding, contouring or both. The majority of brace wear offered in the United States fits beneath the clothing and is worn for most of the day and night. TLSOs for neuromuscular types of curve patterns such as Cerebral Palsy tend to be molded to prevent skin tissue injury from bony deformations.
Charleston or Providence bending brace - Another option to the day and night option are braces that are primarily for single small lumbar curves and worn only at night. The Providence TLSO can also address numerous double curves as well.
Types of Cervical Orthoses
Wire Foam Collar
Molded Plastic Collar
Semi Rigid Collar
SOMI
Aspen /Miami Collars
HALO
Non Invasive Halo
Torticollis Orthoses
Cervical Collars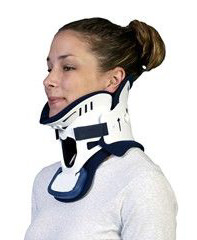 Miami J®
Demonstrated by multiple studies to be the superior immobilizer on the market, the patented Miami J Collar features a phenotype-driven sizing system that simplifies size selection, with 6 unique front and back components that are engineered to work optimally together for various anatomies.
Indications for Use:
C-Spine precaution for trauma patients
Immobilization for pre and post c-spine surgery
Degenerative disorders
Spinal Stenosis
Spondylolisthesis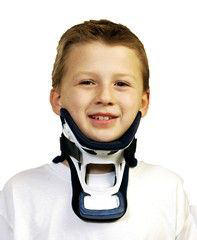 Miami Jr®
Miami Jr is the only pediatric cervical collar endorsed by the widely-accepted, Broselow-Luten Color Coding Kids Hospital System and engineered to fit the unique anatomies of patients age 12 and under.
Indications for Use:
C-Spine precaution for trauma patients
Immobilization for pre and post c-spine surgery
SCIWORA Syndrome
Degenerative disorders
Spinal Stenosis
Occian Back®
Clinical evaluations in leading trauma centers demonstrate that, by simply replacing the standard back of the Miami J® or Miami Jr®. with the Intuitech™ pressure-relieving foam of the Occian Back, medical professionals can virtually eliminate occipital breakdown for multi-system trauma patients, without sacraficing c-spine stability.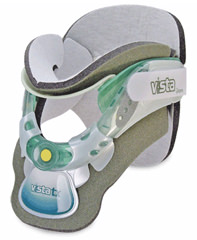 Aspen®
Aspen's new Vista® Collar is like six collars in one eliminating the cost of storing multiple sizes and freeing up valuable inventory space. The Dial Height Adjustment™ system allows you to simply pull and turn the dial to select the correct height setting. Releasing the dial automatically locks the size in place. The Vista Collar provides safe and effective motion restriction while dispersing pressure, reducing the possibility of skin breakdown, and features moisture wicking pads.